SAN DIEGO INTERNATIONAL ETHNIC
ANNUAL EVENTS CALENDAR


January

Robert Burns Supper -
The primary event of the year is the annual Burns Supper which commemorates the 1/25/1759 birth of Scotland's national bard. The tradition of the Burns Supper is an international one dating to shortly after the poet's death in 1796 when a group of friends gathered in his memory at his birthplace in Alloway, Scotland.
---
Vietnamese Tet Festival, 24th & 25th, 10am-6pm,
City Heights Library, tel-(858)292-8027
---

ANNUAL NATIONS of SAN DIEGO INTERNATIONAL DANCE FESTIVAL
Mandeville Auditorium/UCSD, La Jolla
---
SAN DIEGO MULTICULTURAL FESTIVAL
Time: 11:00 a.m. to 5:00 p.m.
Location: Martin Luther King, Jr. Promenade
---
' USA SEVENS'- IRB WORLD SEVENS SERIES
INTERNATIONAL RUGBY TOURNAMENT & FESTIVAL
SAN DIEGO, CA, February 9-10 at PETCO Park
The rugby world is coming to San Diego for the USA Sevens IRB World Sevens Series International Rugby Tournament 5th annual USA SEVENS event featuring 16 nations, playing in 44 matches.Date: February 9-10 at PETCO Park, also home for the Major League Baseball San Diego Padres.Rugby Sevens: Played on the same size field as traditional 15 a-side rugby, sevens rugby is played with only seven players per team. Pure speed and athleticism is the foundation for sevens rugby. The game is played with non-stop action, thrill attacks and game saving tackles in fourteen minute matches.USA Sevens International Fan Festival: Located in the outfield adjacent to PETCO Park the International Festival will be February 9-10 featuring live music throughout the weekend, food and rugby clinics in a fun and spirited atmosphere for rugby fans of all ages. The International Fan Festival will be the place to be for San Diegan s and rugby enthusiasts who make the Gaslamp Quarter a fun place to party throughout the year. The International Fan Festival will showcase all the amazing qualities that rugby offers as The World s Contact Sport .
The USA SEVENS event will feature the world s best national sevens teams. Countries that will be participating in the tournament include:
United States, Mexico, Wales , Australia, England, Scotland, France, New Zealand, Kenya, West Indies, Chile, Canada, South Africa, Samoa, Argentina, and 2007 USA Sevens defending champion, Fiji.Television: The USA SEVENS event will be televised by over 25 international broadcasters, reaching 130 countries, 160 million homes and broadcast in 6 continents and in 10 different languages. Networks who carried the event last year included: Versus, ESPN, Setanta Sports, J Sports, Sky Sports, BBC, Euro Sport.FR and TV NZTickets: USA SEVENS matches at PETCO Park are priced from $25 to seats priced at $215 that include a variety of hospitality options. Two-day tickets are $50-$400. In addition there are other discounted ticket offers available for military and youth. Tickets can be purchased by calling 888-rugby-7s or visit the event website at www.usasevens.com
Media Contact: Rick Schloss at 619 682-3407 or via email at rickschlosspr@aol.com
---
WHEN: Saturday, February 17, 2007. 9:00 p.m.
WHERE: 4th and "B" - located at 345 B Street - MAP
WHAT: The 15th Annual San Diego Brazilian Mardi Gras Ball
BENEFIT: A portion of the proceeds from this event will benefit "Afro-Reggae", a non-profit organization in Rio de Janeiro that teaches life skills, music and dance to underprivileged children.
ENTERTAINMENT: SambaDá an explosive Brazilian Carnaval Band dedicated to make people dance features vocalist Dahndá da Hora from Bahia, Brasil, Remo All-Star Brazilian Batucada Band, Mindinho and Capoeira Brasil plus "Special Guest" Chalo Eduardo and Marco Santos. Rich in beauty and color our Carnaval presents a "Spectacular Samba Show" featuring dancers in glittering costumes adorned in sequins, beads and feathers accompanied by percussionists playing the authentic Batucada rhythms of Rio de Janeiro. "Carnavalescos", those who attend Carnaval will be dancing non-stop to the pulsating rhythms of SAMBA, MARCHA, AXÉ MUSIC, SAMBA-REGGAE, and CARNAVAL ELECTRICO. Not to be missed are the electrifying Capoeira performance and the Carnaval Parade. We invite you join! Mardi Gras Beads are part of the night's festivities. DEFINITION: Carnaval is the annual "Celebration of Life" that takes place throughout Brazil. It is an all-consuming party of fun, feathers, fantasy and outrageous costumes.
---
Chinese New Year
---
Heritage Day Parade-
tel-(619)286-9989, 49th & Logan- 10am
15th Annual Heritage Day Parade - February 25

The parade exemplifies the various ethnic backgrounds that make up the San Diego community.
Arts, crafts, vendor booths, live entertainment. Parade starts at 49th & Logan at 10am and travels east on Logan to Euclid Avenue and north on Euclid to 286 Euclid (Euclid Medical Center).
info- 619-286-8887 or www.heritageparade.org
---
Black History Month Festivites
*the Gaslamp Plaza Suites Hotel
Please visit- www.blackhistoricalsociety.com
for more information click on 'Festivals & Events'.

March


St. Patrick's Day Parade in San Diego next to Balboa Park, up Fifth Ave., and down Sixth.
Starts at am, includes

---

April
"FAMOKSAIYAN:
GUAM- Decolonizing Chamorro Histories, Identities and Futures"

---
Linda Vista Multi-Cultural Fair
a 'Community of Colors'
info-858-560-0871
www.lindavistafair.org

---
San Diegans Carl Gregory and Roseann Iovine have announced that to support Robert Schneider's recovery *(news)
they will host an Australian barbecue from 2 to 6 p.m. April 13 at Bondi Bar & Kitchen, 333 Fifth Ave., San Diego.

May

Native American Cultural Days in Balboa Park

---
Polish American May Ball
Saturday, 13 May
St. Thersa Parish - MAP
6016 Camino Rico, San Diego
info-619-287-0040
---
San Diego Swiss Singers concert/dinner/dance
at the Swiss Park in Chula Vista.
For future events, please contact David Egger,
San Diego Swiss Club President - 619-424-7115.
---
Asian Pacific Islander American Heritage Festival
Balboa Park, Sat., Sun., 10am-5pm
---
Sicilian Festival
Little Italy San Diego Roman Holiday
www.romanholidaymusic.com
10:00 am to 6 pm
TRINACRIA Associazione Culturale Siciliana presents
the 13th Annual 'FESTIVALE SICILIANO'
in the heart of San Diego's Little Italy on India Street,
between Date & Beech Streets

---
International Ethnic Food Fair
Balboa Park, San Diego
Sunday, 28 May, 10am-5pm
---
JAPANESE CULTURAL BAZAAR
FAMILY FUN includes Taiko, Japanese Folk Dance & Music,
Bonsai, Ikebana, Martial Arts, Anime Workshop, Sushi and other Delicious Ethnic Foods,
Kids Games & Crafts, Silent Auction, Bingo, Raffle and Door Prizes.
FREE AND PUBLIC WELCOME! Always held the first Sunday every June.
Sponsored by Buddhist Temple of San Diego,
2929 Market St. (Fwy 94 at 30th), 619/239-0896,
info@btsd.net, www.btsd.net

---
Greek Festival-
San Diego Greek Festival
3655 Park Blvd.
San Diego, CA, 92103
Phone: (619) 297-4165
St. Spyridon Greek Orthodox Church of San Diego
will be celebrating their 37th Annual Festival in 2006.
Homemade pastries, authentic Greek cuisine, live Greek Music.
Largest, oldest Greek Festival in San Diego County.
Spyridon Greek Orthodox Church

---
San Diego Scottish Highland Games
*see below for more info


July


Harlem West Fest
---
BON ODORI FESTIVAL, Festival of Joy
Buddhist Temple of San Diego
The evening includes:
Dance, Music, sales of a variety of Japanese food,
snacks, gifts, books and performance of Taiko Drummers.
Contact info:619-239-0896 or e-mail: btsd@att.net
or check our website: btsd@att.net


August

Celebrate Dance Festival
Opens 6 p.m. Friday, Continues through Sunday
Prado Theater and outdoor stages, Balboa Park, Free,
(619) 238-1153 or www.eveoke.org LINK LINK

---
Fiesta Del Sol San Diego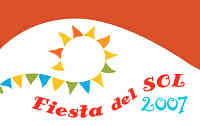 Celebrating All Cultures Under the Sun Street Festival
August 18-19, 2007 11am-7pm
Location: Imperial Avenue between 19th- 25th street - MAP
'Justice Overcoming Boundaries in San Diego County'
Fiesta del Sol is a two-day street festival celebrating the history, diverse cultures,
and engagement of the people of San Diego. It is a fun, family-friendly, alcohol and tobacco free event
focused on creating positive change by empowering our communities.
Over 50,000 people expected over 2 days
Free admission, Over one hundred booths
2 entertainment stages with international and local recording artists
Arts and Culture Pavilion, $20,000 in Scholarships
Civic Participation Pavilion, Free health screenings
Lowrider Car show, International Food Court, Carnival
www.fiestadelsolsandiego.org
---
"YALLA" @ CAFE LUXOR 1100 5TH ST San Diego, CA
International Night, Belly dancer Show, Dancing & prizes.
DJ Raffy 1st show in San Diego, Dj Raffy #1 in Bay Area.
This Friday August 26, 2005, Doors open at 9.00pm till ???
came join us!!!
for more info please call 925 726-6242 or 619 231-8888.

September

Dear Friends,The San Diego Ukrainian Festival 2007 is right around the corner!
Attached please find your official invitation. Hope you can join us on Saturday night, September 1,
for a concert of dance and song featuring Suzirya Ukrainian Dance Theatre and the Korinnay Ukrainian Folk Singing Ensemble, both from Calgary Alberta Canada. Purchase your discounted tickets by August 20.
Sunday September 2 features a short Lawn Program in Balboa Park and a Dinner Dance at the Handlery.
Hope to see you at the Festival! , House of Ukraine, Inc.

---
Pacific Islander Fest
Mission Bay

October


OKTOBERFESTS-
El Cajon-(German American Society) ,Julian Oct. - , Cuyamaca -
Ocean Beach - , Carlsbad- , La Mesa ,- Karl Strauss Brewery
MORE INFO->Sign On San Diego.com
---
Little Italy's 10th annual Festa & Chalk "La Strada."
Join more than 90,000 celebrants and enjoy live
entertainment on three stages (including Frankie Avalon!),
local Italian food vendors, an Alfa Romeo car show, bocce ball and
stickball tournaments and much more.
MORE INFO
---
San Diego Asian Film Foundation
San Diego Asian Film Festival in October 12-19 2006,
presenting our most ambitious and largest selection of
films and videos from around the U.S. and the world.
Real quick, for those who want to know, here's the film program schedule for
the San Diego Asian Film Festival. info-tel- 858-650-3459
www.sdaff.org